"Our emblem is the serpent, the wisest of creatures; our house colours are emerald green and silver, and our common room lies behind a concealed entrance down in the dungeons. As you'll see, its windows look out into the depths of the Hogwarts lake. We often see the giant squid swooshing by — and sometimes more interesting creatures. We like to feel that our hangout has the aura of a mysterious, underwater shipwreck."
—Description of the dungeons
The Slytherin Boys' dormitory is a dormitory located in the Slytherin Dungeon behind a bare stretch of stone wall in the dungeons of Hogwarts Castle. A password is required to enter it; whereupon a passage is revealed leading to the common room.
Description
They sleep in ancient four-posters with green silk hangings. During the night it is possible to listen to the lake water lapping against the windows. Also, silver lanterns hang from the ceilings. The walls were decorated with Slytherin crests. Medieval tapestries depicting the adventures of famous Slytherins cover the walls
Known residents
1935-1942
1938-1945
1953-1960
1962-1969
1963-1970
1964-1971
1981-1988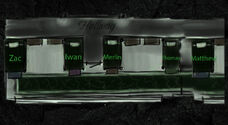 1989-1996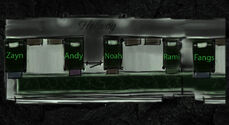 1990-1997
1991-1998
2019-2026
2025-2032
2029-2036
2030-2037
2033-2040
Gallery