The relationship between Patrick Dunbar and Brody Hudson.
The relationship between the main characters Patrick and Brody is seen as the most important in the entire series. They've known each other ever since they were born and thus have met long before the events of the first book, its duration making this relationship the longest out of all characters their relationships. Their connection is the strongest out of all of them and it is said that they can understand each other simply by looking at each of their faces and read their expression, without ever having to utter a single word. They share many interests such as their love for music although the duo both have their own taste in music.
Their relationship is built solely on trust and protectiveness. They tell each other everything because of a promise they made when they were young, which is to "never have secrets for each other." They would give their lifes for each other if it meant that the other would be safe from harm. The two, who are always near each other, are each other's best friend; there are so many things that they've done that made them feel extremely comfortable in each other's presence. They've had almost no fights in their entire lifes, being able to use sarcasm to jab and insult at each other playfully without meaning it. To any outstander these interactions come across as real and have caused some of them to think that they can't stand each other, while the opposite is true.
Brody and Patrick fought alongside each other in the First Wizarding War as the Fire and Earth Elemental respectively and to the entire Wizarding World, they are two of the most famous and strongest wizards of all time.
History
Childhood
For as long as Patrick and Brody can remember, they have always been each other's best friend. Patrick is also Brody's older stepbrother with whom he has been living with his entire life. His father has told him stories about him and Brody playing together as toddlers, sharing each other's toys with each other, cuddling each other, giving each other sloppy kisses on the cheek and laughing each other; his stepmother Carole has documented every interaction on tape and sees it as one of her most valuable possessions. She also has a video of the duo when they were laying next to each other inside their crib as infants and that they kept crawling to each other while they tried to speak to each other; however, being unable to form words at such a young age, all you could hear was the usual baby brabbling.
They have been practically joined at the hip since birth: where one of them is, you can find the other as well. They have such a strong mental and emotional connection, the same of which can only be seen by twins: they think about the same things at the same time and they always say exactly what the other one was about to say.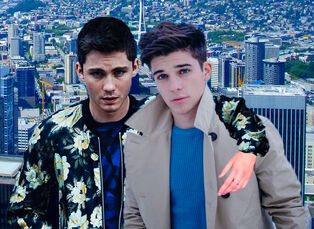 They know each other from the inside and outside: there's no secret that lays between them. Not only have they slept in one bed (alongside Liam and Finn) pretty much their entire childhood but they do everything else together too: they play outside together, they prepare meals together, they clean together, they sing and dance together and they even shower together, which is something that they have done their entire life as well. There's no shame or embarrassment between them, they're that close. It is also the case that whenever they were alone at home or in the showers that Patrick and Brody, both curious about their sexuality and each other's bodies as they grew up, experimented with each other to discover more about their likes, dislikes and sexuality. The two of them swore to keep this a secret between the two of them and only speak of it when they are sure they are completely alone.
Patrick and Brody would do anything for each other: they would even die for each other like they would for any other member of their family. As soon as there's something wrong with either of them, the other will be able to tell. Patrick and Brody are unable to lie to each other because they both know what to look for in each other to discover if they are being lied to. When one of them is hurt, the other one will take care of him and will personally make sure that they will get better; they won't give each other one minute of rest if that's the case since they will always be by their side.
There's something that Patrick and Brody have done their entire life and are still doing even when they're at Hogwarts and that is giving each other kisses on the cheek as a sign of affection and love. Patrick has gotten so used to it that he feels that whenever he's ill his body will only start to heal as soon as Brody has given him a kiss on the cheek. It's like there is magic hidden in it that has a healing and calming effect on the both of them.
The two take photographs of each other all the time, even at the most random places and when the other does not expect it. They mostly do it just so their mother will have more pictures to add to her collection, but it's also just for fun for the two of them. They love to get pictures and videos of whatever is happening in each other's life, so they can watch it back when they want to.
Hogwarts
First Year (1991-1992)
Second Year (1992-1993)
Third Year (1993-1994)
Fourth Year (1994-1995)
Characteristics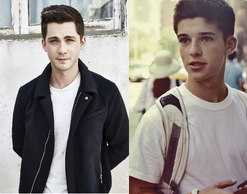 The relationship between Brody and Patrick is the closest of the entire series. Due to their families being good friends for over twenty generations, it's not shocking at all to discover that they have been best friends ever since they were born. When the Hudson and Dunbar families were merged due to the marriage of Patrick's father and Brody's mother, the emotional bond between them went even further now that they were not only each other's best friend but family as well, and even though they weren't related by blood, it surely felt that way. They have been living together ever since the marriage of their respective parents.
Over the years, their relationship has developed certain characteristics that makes their relationship unique to that of others. Some of them may look or sound weird to others, but neither of them care about their opinions at all.
Trivia
Brody and Patrick are inspired by and named after the creators of the Hogwarts Life series.
Out of the four main characters, Brody and Patrick are the most important and are the main focus of the series.
They are both part of the LGBT-community.
They are both part of the Elementals; Brody is the Fire Elemental while Patrick is the Earth Elemental.
They were both sorted into Hufflepuff House when they arrived at Hogwarts for their first year.
They have the most closest relationship out of all the relationships in the entire series.
Music is a thing that they both love. They're often seen singing songs and dancing with each other.
Growing up, they experimented together and are therefore each other's first sexual (same-sex) experience.
Not feeling romantically attracted to each other because they are stepbrothers, they did decide to continue their sexual relationship throughout the years (which is still on-going), knowing it's not bad at all because they do not share a blood connection. They promised each other that they would keep this a secret from anyone else and so far, it has not been revealed at all to this day, both keen on keeping their fun interactions to themselves.
They eventually became teammates when Brody joined the Hufflepuff Quidditch team during their seventh year. Patrick, who was the team Captain that year, wanted his best friend to experience the Quidditch euphoria after he had been the commentator for several years now.
Ad blocker interference detected!
Wikia is a free-to-use site that makes money from advertising. We have a modified experience for viewers using ad blockers

Wikia is not accessible if you've made further modifications. Remove the custom ad blocker rule(s) and the page will load as expected.