The journey of Patrick Dunbar officially began after he faked his death during the Battle of Hogwarts on 2 May 1998. Before this event occured, Douwe Posthuma informed him and the other Elementals of four of Voldemort's Horcruxes in different countries in the world. It was decided that after he faked his death, Patrick would go to the United States to form alliances with witches and wizards from the Magical Congress of the United States of America and to find the one Horcrux he was assigned to find and destroy. Posthuma recommended that Patrick would use this possibility to get his powers under control and to become even more powerful.
Changing his appearance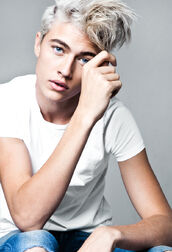 When it became clear that they would fake their deaths, they knew that they had to keep all of it a secret from everyone else. Their family, friends and partners weren't allowed to know that, in fact, they were still alive in order to make it as believable as possible. It took a great deal of convincing before Patrick finally accepted it and went along with it, knowing that the
Dark Lord
himself had to believe that they were dead, and letting their parents mourn them, it would be as believable as it could get.
During their sixth year, Professor Posthuma scheduled private lessons with the Elementals to teach them how to brew Polyjuice Potion. Since it takes a month to brew, they needed to create as many batches as possible since they would be out of this country for more than a year. The four Hufflepuff students were tasked with getting a hair from someone that's not a wizard or witch in case someone that resides in the country they are fleeing to knows them.
When Patrick went home that year for the winter holidays, he visited a Muggle gay club in search of finding a man that he'd want to turn into for one whole year. It proved to be a difficult task to get someone's hair in public without creeping others out, so he had to find a way to get to them in private. When he finally laid eyes upon a beautiful man, he walked up to him and introduced himself to him. The Muggle–whose name was Lucky Blue Smith–and Patrick talked for hours on end and discovered that there was a mutual attraction.
Midnight arrived: Lucky invited Patrick to come over to his house to have some fun and to stay the night which Patrick, who figured he'd only be alive once so he was allowed to let loose in awhile, accepted. Patrick and Lucky stayed up all night to have sex before passing out in each others arms. The next morning, Patrick was the first one to wake up. With his wand in his pocket, he collected his belongings before harvesting multiple hairs from the sleeping boy's head and it got collected in a jar before Patrick walked out of his house, now being able to brew the Polyjuice Potions when he got back to Hogwarts.