The Minister for Magic is the leader of the wizarding community in the United Kingdom and Ireland and the highest ranking member of the Ministry of Magic, which they control. The position somewhat corresponds to the Prime Minister of British Muggles.
The Minister is advised on wizarding matters by their staff members and by the other Heads of Departments. They also chair the Wizengamot to pass Wizarding Laws, or to hear important trials, though the verdict is decided by majority vote, including that of the Minister themselves. Many other wizarding countries also have Ministers and have the similar governmental systems such as the Bulgarian minister.
Despite being the head of the wizarding community of Britain and Ireland, it is common for the Minister to uphold a facade of peace and safety to maintain control and the satisfaction of the public, even if it means blatantly lying to the citizens, putting them at risk, and forcing the media to corroborate the Ministries claims.
The Minister for Magic was formally appointed in 1707 when Ulick Gamp was voted in as the first Minister for Magic. The minister is democratically elected through a public vote and there is no fixed limit to a Minister's term in office. However, regular elections must be held at a maximum interval of seven years.
History
Albus Dumbledore was offered, but refused, the position on at least three occasions. This was due to Dumbledore's past, leading himself to believe that he was not to be trusted with power.
After Millicent Bagnold was preparing to retire, Barty Crouch Snr was the next prime candidate, due to his cruel but effective methods of combating the Dark Arts during the First Wizarding War, until he sentenced his son to Azkaban for being a Death Eater. It was after his son's presumed death that the public began to take pity on the boy and thought Crouch was too neglectful as a father, which led to a drop in his popularity, causing him to lose out to Douglas.
Garrett Douglas became Minister in 1990. He was succeeded by Finn Hudson in 2005.
List of British Ministers of Magic
18th century
19th century
20th century
#
Portrait
Minister for Magic
(term of office)
Other Ministerial offices held
Notes
21
Venusia Crickerly
1903 to 1912
Auror
Competent and likeable Minister. Died in 1912 in a Mandrake-related gardening accident.
22
Archer Evermonde
1912 to 1923
—
Passed emergency legislation preventing wizards from taking part in the on-going First World War, lest this cause a massive breach of the International Statute of Secrecy.
23
Lorcan McLaird
1923 to 1925
—
An exceptionally taciturn man who preferred to communicate in monosyllables and expressive puffs of smoke that he produced with his wand. Forced out of office out of sheer irritation.
24
Hector Fawley
1925 to 1939
—
Term in office coincided with the beginning of Gellert Grindelwald's "For the Greater Good" revolution. Fawley did not take Grindelwald's threat to the world wizarding community sufficiently seriously and was, as a result, forced from his office.
25
Leonard Spencer-Moon
1939 to 1948
Tea-boy in the Department of Magical Accidents and Catastrophes
A sound Minister, oversaw a period of great turmoil in both the wizarding (global wizarding war) and the Muggle world (Second World War). Maintained a good working relationship with Winston Churchill.
26
Wilhelmina Tuft
1948 to 1959
—
Presided over a period of welcome peace and prosperity. Died in office, after eating Alihotsy-flavoured fudge (which she was allergic to).
27
Ignatius Tuft
1959 to 1962
—
Son of his predecessor, who gained election based on his mother's popularity. Tried to institute a controversial and dangerous Dementor breeding programme, and was forced from his office.
28
Nobby Leach
1962 to 1968
—
First Muggle-born Minister for Magic. Denied having had anything to do with England's 1966 World Cup win. Left office after contracting a mysterious illness (conspiracy theories abound — Abraxas Malfoy is widely believed to have been part of the shady plot that made him leave his post prematurely).
29
Eugenia Jenkins
1968 to 1975
—
Dealt competently with the pure-blood riots during the Squib Rights marches of the late 1960s. The first rise of Lord Voldemort saw her ousted from office, as the people saw her as innadequate to meet the challenge.
30
Harold Minchum
1975 to 1980
—
Hard-liner. Placed even more Dementors in Azkaban, but could not contain Voldemort's seemingly unstoppable rise to power.
31
Millicent Bagnold
1980 to 1990
—
Minister during the terminal phase of the First Wizarding War. It was during her term that Lord Voldemort seemingly died following the James and Lily Potter murders in 1981. Responsible for the successful Death Eater trials immediately after the war.
32
Garrett Douglas
c. 1990 to 2005

Advisor to the Minister for Magic

Most of the wizarding world supported Garrett Douglas for Minister when Bagnold retired, and was elected in 1990. He is praised for using his Slytherin traits to make the Wizarding world a better place for every witch or wizard, including Muggle-borns, which caused a lot of pure-blood supremacists to work against him.
21st century
#
Portrait
Minister for Magic
(term of office)
Other Ministerial offices held
Notes
33
Finn Hudson
c. 2005 to ?
—
Finn Hudson was the first and only Elemental to become the Minister for Magic.
Timeline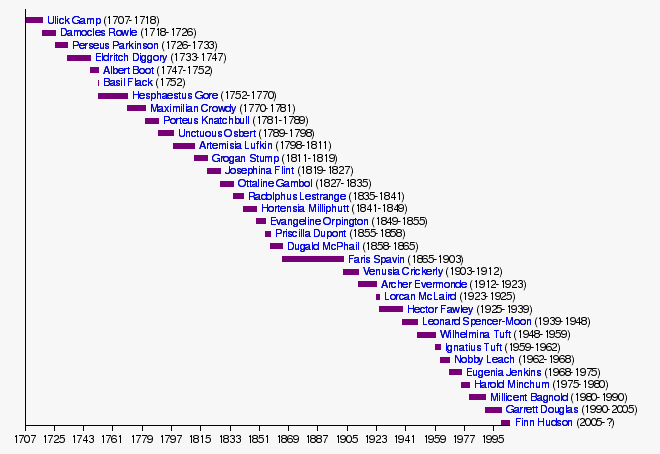 Relationship to the Muggle Prime Minister
One of the Minister for Magic's duties is to correspond with the British Prime Minister of Muggles regarding any ongoing events in the wizarding world that will or may affect the United Kingdom as a whole. This includes introducing themselves to the Muggle Prime Minister, should there be a change in office on either side.
A small portrait in the corner of the Prime Minister's office serves as an envoy between the two Ministers. It announces the arrival of the Minister for Magic, seeking the Prime Minister's reply (usually acquiescence to the unavoidable). It is believed that a Permanent Sticking Charm must have been placed on the portrait, for neither the Prime Minister nor his experts were able to remove it from its location.
Known correspondences
Sometime between 1990 and 1993, Douglas introduced himself to the newly elected Muggle Prime Minister and informed him of the existence of the magical population living among Muggles in secret. Garrett assured the Muggle Prime Minister that they would likely not see each other again unless there was an emergency.
Minister for Magic of Great Britain
Ministers for Magic: