Hudbar Manor
is the home owned by
Joshua
and
Carole Hudson
. They lived in this home with their sons,
Finn
,
Patrick
,
Brody
and
Liam Dunbar
. The Hudbar family also has a houself,
Dobby
, into their family. Hudbar House lies in the village of Little Whinging, which is located in the county of Surrey, near London in the southeast of England. The neighbourhood consists of a number of almost exact replications of the Dursley residence
—
row upon row of executive houses for executive people.
Inviting people over is something that is considered rare within the family. Since the Hudbars have always valued their privacy, only people who are having a close relationship with (one of) the family members are allowed entrance. Not even the Minister of Magic is allowed entrance unless there is a good reason for it. Another reason why they have to keep their house so closed-off for other people is because of the fact that they are living in a Muggle neighbourhood.
History
Appearance
Interior
Joshua and Carole's Bedroom
Joshua and Carole's bedroom is a fairly ordinary room on the first floor. It has plenty much windows and an incredibly beautiful view over the garden. The walls are sandy-coloured and the windows are painted white. There is a nice separation made between the seating area and the sleeping area. In the middle in the wall is a fireplace, where Joshua and Carole are getting almost every evening a romantic night. The seating area consists of four dusty chairs with a soft carpet. The bed is a fine large bed with a good mattress. The room is decorated by Carole.
Finn's Bedroom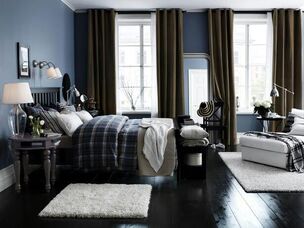 Finn's bedroom is on the first floor. It's completely decorated in Finn's style. It is a blue-coloured room with two windows. There are coconut-coloured curtains what a beautiful and soft atmosphere create. There is a double bed in the room, with many white carpets. There are two white sofas in his room, many mirrors, lamps and even flowers. Quinn, who sometimes comes over at the Hudbar Manor, and sleeps together with Finn likes the idea of having flowers in his room. It take care for a fine smell, especially after an active workout. There are also some posters of Finn's idols on the wall, photos of his family and friends and to the side are what sports objects. His drumsticks makes his room complete. Finn's room include a little bathroom with a toilet, shower and sink.
Brody's Bedroom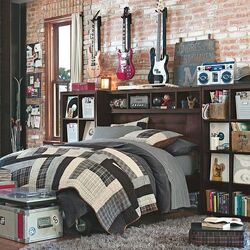 Brody's bedroom is on the second floor at the back of the manor. It's a big room with a lot of space. It has a few windows and has an access to the balcony at the back. By this possibility, there shine a lot of light in Brody's room. The walls are curry-coloured bricks with a chestnut brown wood floor. Brody's room is decorated as a typical guy room. There is a large bed in the room with around wooden cabinets. There are many gray rugs, lamps, decorative furniture and even guitars on the wall, which he collects. There are many music devices such as a radio and a turntable. The turntable was a gift from his grandpa, who has passed away. Brody has a small seating area with soft chairs and a sofa where he can sit with his friends. On the walls are pictures of his family and friends at Hogwarts, especially from Jackson, Scott and Brittany. In the particular state, there is a large picture frame with a picture of his father on his desk.
Patrick's Bedroom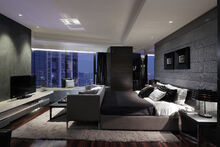 Patrick's bedroom is on the third floor of the manor, located right next to the room of his little brother Liam. The wall on the outer side of the room is completely made out of windows. These windows are charmed so that you can see the outside clearly from within but you cannot look inside the room at all if you're outside, the windows looking like brick wall as protection in case Muggles look inside and see magical objects and other things they are not allowed to see. The bedroom has a lot of black colors, being mixed with few grey and white colors, because of Patrick's preference to darker colors in his bedroom, not being able to sleep if his bedroom is bright. The bed in the middle of the room is right in front of a wall, seperating the room in two. Behind that wall stands a desk with a computer on it and a picture of family such as his mother Alice. his father Joshua, his stepmother Carole, his brother Liam, his stepbrothers Finn and Brody, his boyfriend Theo and his closest friends Isaac and Stiles. In front of his bed stands a couch with pillows on it and a table where Patrick (and company) can sit to watch teleivision. There is a table next to the bed with a lamp on it and the walls are decorated with black decorations and curtains. On the other side of the wall stands a huge walk-in closet for all his clothes and there's also a pathway that leads to his personal bathroom in which there's a toilet, a shower and a huge bath which has sunk in tothe floor (instead of a normal tub). His bath can blow bubbles and acts in fact as a jacuzzi, having room for multiple people. Patrick and his boyfriend Theo has spent a lot of time in his room which can be locked from the inside, Patrick having asked for it specifically because Liam kept walking in on him and Theo.
Liam's Bedroom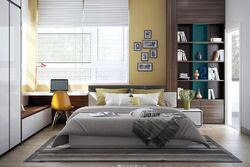 Liam's bedroom is located on the third floor of the manor, right next to the room of his older brother Patrick. While his brother prefers dark colors for his room, Liam loves to have bright colors such as yellow and blue although it doesn't have to dominate the entire room. Therefore the main colors of his room are a bit lighter and not as bright as he'd have liked. Like his brother, he has gotten a bathroom from his father as well in which there's a toilet, a shower and a huge bath. His bed is located in the middle of the room, several pillows laying on top of it. A desk stands right next to it with his computer on it. The entrance to his walk-in closet is located at the left of the room.
Gardens
Surrounding area
Quidditch Pitch
Residents
Events at the Manor
1981
Joshua and Carole bought the Manor. Gave a house warm party which include the Russo family, Hugo, Garrett and the neighbours.
1992
Quinn and Kim visited the Hudbar Manor
1993
Joshua and Carole wanted to celebrate Christmas together with friends. They invited:
Brody also came out as bisexual by the Hudson and Howell family when he invited everyone to come over. With Jackson at his side, he tells everyone that they are in a romantic relationship.
1994
Theresa visited the Hudbar Manor while the kids where at Hogwarts.
Justin, Quinn, Jackson, Theo, Alex and Max visited the Hudbar Manor in the summer.
Etymology